Three very different styles, but all highly skilled makers shared their many years' of creative experience.
This diversity of work presented at this event had the participants 'heads in a spin' at the limitless possibilities of clay and not forgetting the role of fire in the process Jim Turner and Jim Behan also demonstrated the techniques of 'soda kiln firing'.
Jim Turner's generosity in sharing with Cork potters and friends his ambition to build a soda kiln at his workshop in Rossmore created the back drop for this incredibly enjoyable, informative and inspiring workshop.

Jim Turner's sheer determinism and hard work to complete the soda kiln for its inaugural firing at this event was offset by the laid back but professional approach to both clay and life in the demonstrations by Jim Behan, and all perfectly complemented by the quirky but spontaneous creations by Pat Connor.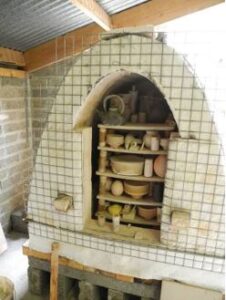 National and international award winning ceramic artist Pat Connor demonstrated his skill in combining the techniques of throwing and modelling which he uses to create his unique figurative pieces.
Jim Behan & Jim Turner worked tirelessly not only to pack and complete the soda firing on schedule but also shared their years of experience of working with clay in an instructive and easily understood manner. There were oooh's and ah's a plenty as Jim Behan calmly and precisely flipped about 6lb of thrown clay upside down to complete the top half of one of his tall signatory jars . Participants were equally amazed by Jim Turner's use of an assortment of materials and tools, not commonly associated with ceramics, to create one of his unique 'paper clay' slabs. And Pat Connor, warmly and with good humour, permitted the participants through commentary to influence the construction of his 'wingless flying elephant!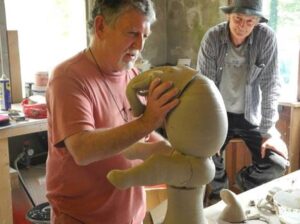 These three masters awed and inspired all by their confident but seemingly casual approach to clay, the result of many years' experience. The photos of this event captured these and many other moments and hopefully give a sense of this memorable workshop. We wait in anticipation for the results of the soda firing.