published 22/07/2015
8th – 26th August, 2015
We are delighted to announce an exhibition of contemporary ceramics from Cork based artists and potters. The Society of Cork Potters present "FORM & FUNCTION" in the CIT Wandesford Quay Gallery, Wandesford Quay, Cork.
The Society is an non-profit organization, incorporating ceramic makers who live and work in County Cork and city. Originally established in the 1970's, it comprises of a large and dynamic group of artists working in clay. This Annual Members Exhibition showcases the wide diversity and excellence of current ceramic design activity in the Cork region. The exhibition will feature a variety of works from functional through to decorative and sculptural pieces which are exemplary in their field.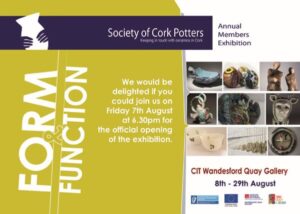 An opening reception will take place on the 7th August from 6.30 pm.
All are welcome